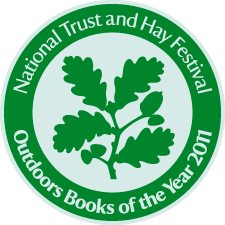 The National Trust and Hay Festival have announced their top "Outdoors Books of the Year" and I can reveal that The Lie of the Land, my under-the-field guide to the British landscape, is one of the winners.
The endorsement, the result of a month-long poll to find the best recent writing about nature and the outdoors is shared with The Natural Navigator by Tristan Gooley, The Garden in the Clouds by Antony Woodward, Weeds by Richard Mabey and a number of other lovely books written from unique perspectives on the countryside. Hundreds of votes were cast and the winners were revealed at the Hay Festival - Britain's most famous literary festival.
Thank you to everyone who voted for The Lie of the Land, which you will now be able to obtain from your local Trust gift shop. The paperback is out as well.