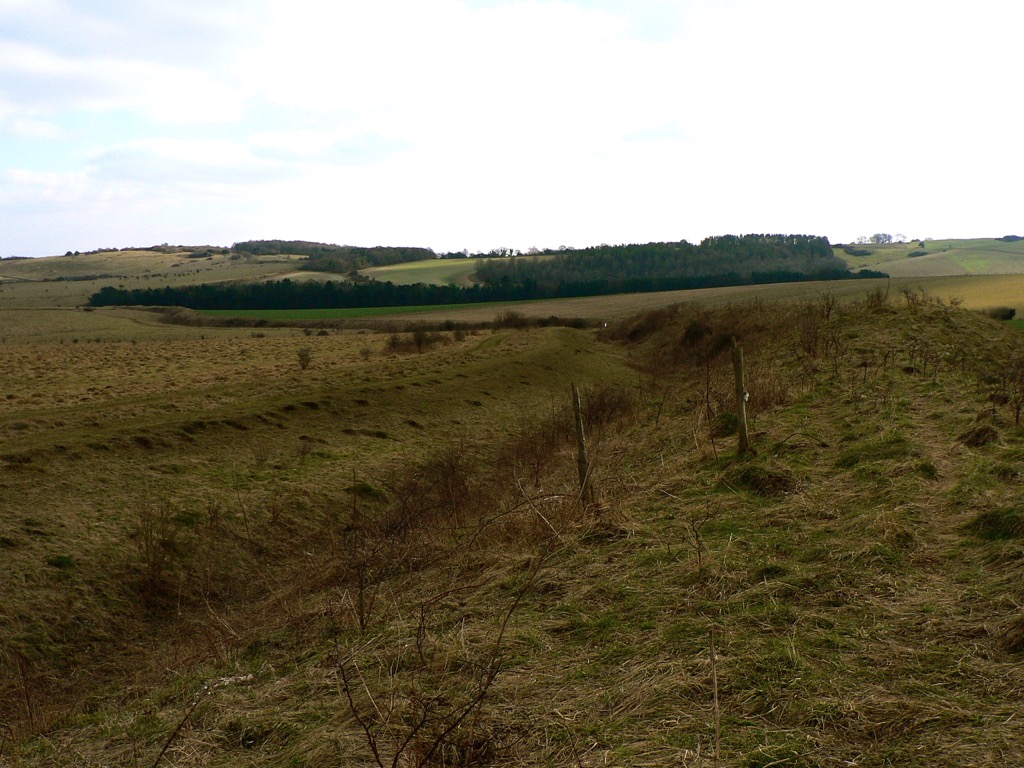 Bokerley Dyke snaking its way southeast. The Saxons would have tried to invade from the left

March may be the official start of spring, a little warmer and with promises to keep, but it also hides a dark secret, for the month has martial connections. Named after Mars, the Roman god of war, it was not only the start of the Roman year, but also the month for mounting military campaigns. Those campaigns, and many more before and since, have left obvious marks on the countryside; battlefields, motte and baileys and castle keeps we would all recognise the names of, from Hadrian's Wall to the half-mile-long magnificence of Maiden Castle in Dorset, with medieval and Tudor strongholds the length of the country between. The ubiquity of battle and war in every corner of Britain is evidence of the part that conflict has played in our history, but for every famous hillfort, castle and Roman wall, there are dozens of military connections hiding quietly in our countryside.
Among them, the miles of Iron Age Grim's Dykes or Ditches that are common in Wessex and are believed to be territorial markers. Though not of a sufficient scale for military use – where they can still be tracked on the ground they tend to be of the scale of a modest railway embankment – the ditches have an etymological cousin in Graham's Dyke, a local name for the Roman's short-lived Antonine Wall across the Central Lowlands of Scotland. Grim was the Old English name for the Anglo-Saxon god of war, Woden, and other Grim's Ditches, particularly the one at Colton, east of Leeds, may have been substantial enough to have a defensive use.
Compared to Offa's Dyke – up to 65 feet at its widest and at least 64 miles long – Grim's Dykes may seem modest. The eponymous creation of the eighth-century King of Mercia, Offa's Dyke marks the English-Welsh border (running along Marches of a different kind) and is a potent symbol of tension throughout history. The dyke is built to have commanding views of Powys to the west, with the bank on the Mercian side and the ditch in front to deter any hapless invaders from Wales.
Seven-hundred years before Offa, at Wales' northwestern horn, advancing Roman legions were confounded by both the treacherous Menai Straits and the Celtic tribes of Ynys Môn (Anglesey) on the other side. Roman Governor Agricola inflicted a punishing and conclusive triumph over them in 78 AD, and Ynys Môn was taken for good, but the memory of his brutal campaign is allegedly preserved in the names of fields; close to Brynsiencyn on the island, one howls its name as Cae-oer-waedd or the 'Field of Bitter Lamentation', another is simply "The Field of the Long Battle".