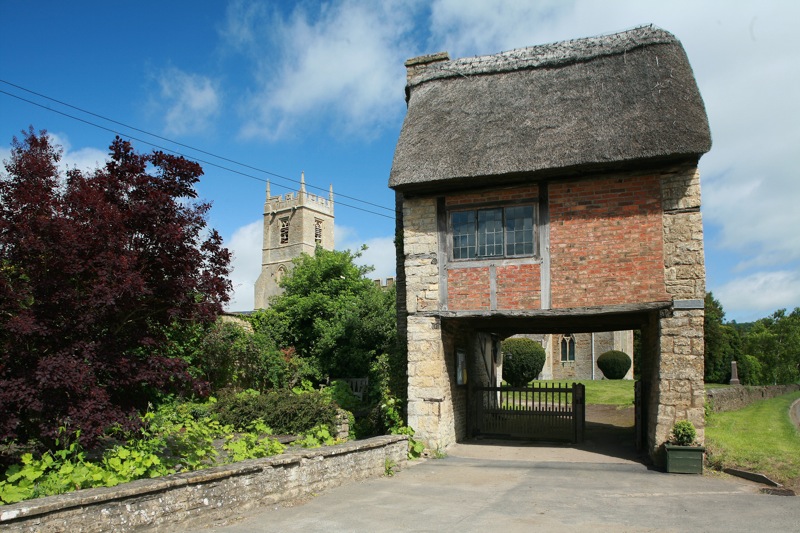 Lych Gate at Long Compton Church, Warwickshire. Photo credit:
Hellsgeriatric 
/
Foter.com
/
CC BY-NC-ND
In a month that starts with All Hallows and All Souls, two opening feast days of November that sift and grade the dearly departed for salvation – first the saints and then the aints – it's natural to look at the earthly, temporal end of the process. After all, before anybody gets to pray for your soul, there's the matter of getting into the churchyard in the first place.
Lych gates, which acquired their name from the Saxon word for corpse, stand at the threshold of all thresholds, the entrance to God's acre. Although many were built before 1549 – Beckenham and Boughton Monchelsea in Kent are dated to the thirteenth and fifteenth centuries, respectively – it became a requirement of the Book of Common Prayer that priests "metyng the corpse at the church style" should commence the service there and that only encouraged construction of lych gates to keep everybody (and every body) dry.
As if hiding their true and gruesome purpose, lych-gates often have a charming gingerbread cottage-cum-chocolate box appeal. They are commonly built from stout timbers and capped by a pleasing and petite doll's house roof, but the gate at Long Compton church in Warwickshire surpasses all of that to find itself at the peak of picturesque – an entire seventeenth century thatched cottage, minus most of its ground floor, the last surviving of an old row demolished in the 1920s, functions as the churchyard's gate.
Other designs are grander, the gate at St Peter's Church, Carmarthen is a vaulted Victorian gothic creation in red sandstone which competes for attention with the lime-rendered tower of Wales' largest parish church. Sometimes, as at the church of St Germanus, Rame in southeast Cornwall, the gate appears to be a funereal dual carriageway complete with a six-foot long central reservation, the bier or lych stone, to park the deceased on, while benches on either side were provided for the pallbearers, who may have had to walk long distances to church.
Corpse ways to outlying areas of the parish were part of an extensive funereal topography, especially in upland Britain. In Derbyshire, before Coton-in-the-Elms had its own church, bodies were carried a mile and a half along Procession Way to Lullington for burial. The mourners passed under a curve of tree boughs known as the Devil's Arches on their journey. In Devon, a long-distance footpath – the "Lich Way" – follows a twelve-mile long corpse road over the moor to the church at Lydford and, this being Dartmoor, there are tales of spectral monks walking the trail on moonlit nights.