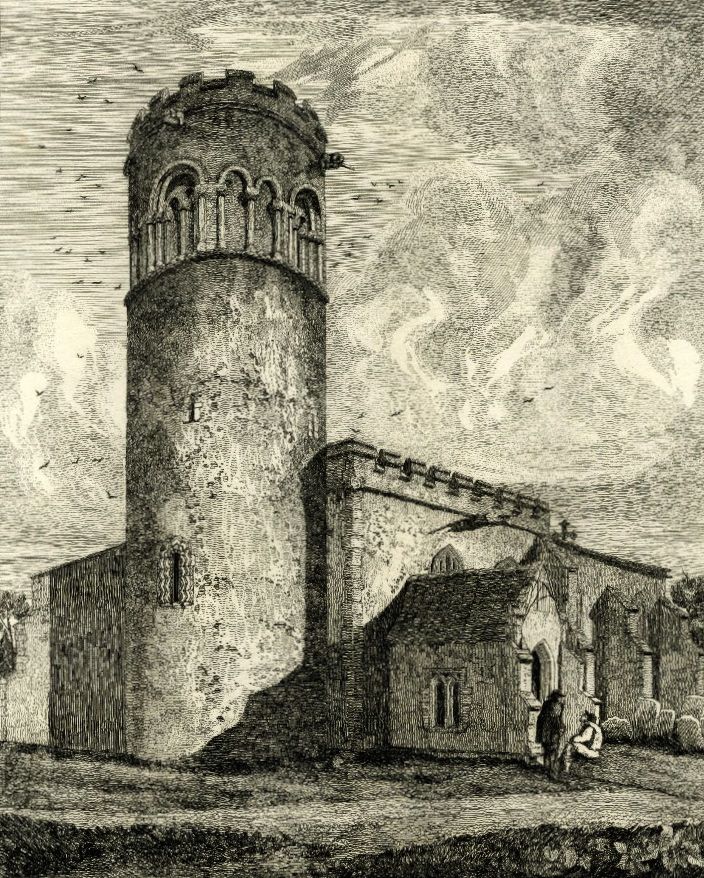 Above: Little Saxham in Suffolk - Most of Britain's round Saxon church towers are in East Anglia

Church building being what it is – a rather drawn-out process that can occupy an entire generation or two, if not centuries – it's perhaps no surprise that, nonconformist chapels aside, there are very few churches in Britain built wholly in one discreet architectural style. Given that Anglo-Saxon rule – from the early 5th century to 1066 – ended almost a millennium ago, it seems unreasonable to expect to find very much of their architecture left that hasn't been substantially 'improved' upon or remodelled during the 950 years of fads and fashions that followed. But it is out there, you just have to look for the clues.
The most distinctive architectural indication is the triangular-headed window; where ever you see one, such as those at St Mary's Deerhurst, four miles down the Severn from Tewkesbury, it's conclusive evidence of a Saxon church, as is the tower's herringbone masonry – a feature shown off to staggering effect at St Margaret of Antioch's in Marton, Lincolnshire. Not all the windows have triangular heads, however, Saxon windows and doors often have rounded arches which can be distinguished from their Norman counterparts by chunkier stonework, particularly the roughly turned supporting pillars or 'balusters' which can call to mind over-engineered snooker table legs in their form.
Another strong, though similarly unfussy, detail is the Saxon pilaster, a thin, vertical stone column that bears a resemblance to the timbers found in Tudor vernacular architecture. Together with the string-courses that finish every storey of the tower at Earl's Barton church in Northamptonshire, the half-timbered Tudor look is striking.
There's good reason behind the unsubtle – and what many might regard as heavy-set – overtones of the Saxon church; the hammer and chisel didn't make it into the stonemason's toolkit until the second half of the 12th century and until that happened, Saxon, as well as early Norman, masons had to craft their stone with a hatchet.
As buildings that have been in continuous use for centuries, all old churches are works in progress and so their architectural features, historically, have always been at the mercy of fashion. There is one Saxon feature, however, that is present in almost every parish church built ever since, the tower. As part of a place of worship the tower is a Saxon invention which has been adopted into British church architecture in a variety of forms. Figuring among the Saxon forms of it are a smattering of rather beautiful round towers – most, like Little Saxham in Suffolk are located in East Anglia. The reason for this concentration of round towers might be geology; the local building stone is flint, which, because of the way it fractures, is very difficult to build corners with.